Women in Agriculture play a vital role in the development of the country because when she changes, a community changes. A significant change for today is for a better tomorrow, helps for achieving the Sustainable Development Goals by multi-dimensionally empowered farm women and this is the need of the hour, that the country needs more silent contributors to be tech-friendly.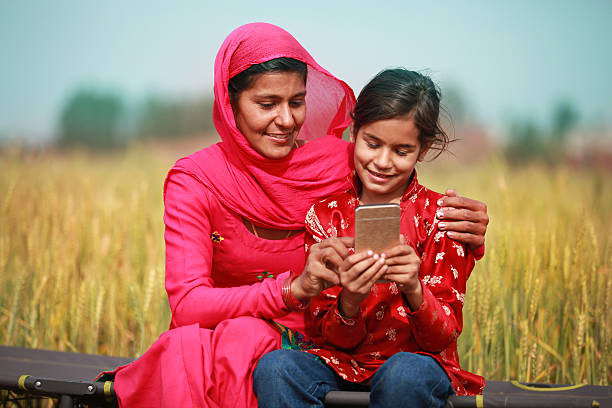 Silent contributors are the one who starts their day before sunrise and continue to work till the end of the day. Their multi-tasking ability contributes to family prosperity and Income. Even though their wider contributions to Agri and allied sectors, they were recognized as Invisible farmers due to prime reasons like lack of ownership of land, decision-making, in the availability of farm women database, and farm women recognition as cultivators. The invisibility of farm women to the world does not stop the visibility of their contribution to Agri GDP as they were continuously striving for the development of their families. This scenario can be taken to the next heights through programs and policy implementations by the concerned authority for farm women's development.
The agriculture sector nearly employs 80% of the economically active women in India i.e., 33% comprises the agriculture labor force and 48% of them were self-employed farmers (OXFAM, 2018). About 85% of the Indian rural women were engaged in agriculture, yet 13% of the farm women possess the land and belong to small and marginal holders. Nearly 70% of the farm women operating farms are from households witnessing migration (IHD, 2014) and the farm women's contribution to food production is about 60-80% (Economic survey 2017-2018). The percentage share of the female operational holders increased from 12.79% in 2010-2011 to 13.87% in 2015-2016 with the corresponding figures of 10.36% and 11.57% with respect to the operational holding by the same (Agricultural Census 2015-2016). This data represents that women were part of the agri-allied sector and were multi-tasking.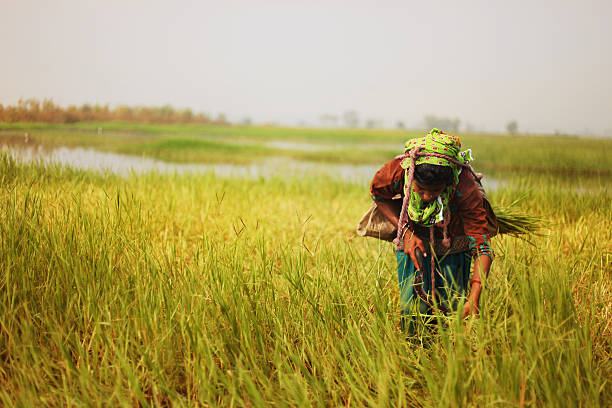 Closing the gender gap is a prima-facia to accelerate the pace of the growth in the agri-sector as there is a necessity to enable them for their rights, leading to multi-dimensional empowerment through technology. These unsung, unheard, and untold voices are to be heard at the policy and implementation levels. So, that farm women can be more accessible to productive resources like technology, inputs and contribute to higher GDP in Agriculture. As FAO, 2011 reported that farm women in developing countries have equal access to productive resources as men, their productivity can be enhanced by 20-30 percent and agricultural production could be raised by 2.5-4.0 percent emphasizing the prominence of women farmers assumed in the recent past and also suggested that women need to have access to technologies and quality inputs to improve the agriculture production. When technology like ICT's is in the hands of women farmers helps them to be more productive in agriculture through reliable, credible, and timely information. A broad range of ICTs are accessible to remote and inaccessible areas and are paving a way to empower women by providing equal opportunities to access and utilize the ICT tools and their services.
Seven critical factors should be taken care of for the successful implementation of ICTs in agriculture. They were content, capacity building, gender and diversity, access and participation, partnerships, technologies, and sustainability. The especially third factor should be given utmost importance across the world as access and opportunities were not distributed equally among the end-users.
Projects like Buy for women by UN Women in Rwanda, mobile phones were used by farm women to access weather-related information in Kenya, and women of Uganda Network accessed information related to market and improved farming methods through ICTs. These showcased examples reveal that ICTs were extended to farm women and thus leveraging the gender equality that inherits the society.
This technology-led feminization in agriculture leads agriculture more productive and sustainable with empowered farm women and helps to reach out the Sustainable Development Goals through their direct and indirect contributions which were interlinked to achieve the Sustainable Development Goals and every single contribution counts for overall development. Personal, Physical, Social, and Technological Aspects of development should be taken care of to engender women in Agriculture in the future too.
Technologically assisted women in agriculture will have higher innovativeness, self-confidence, and decision-making ability which helps them to be economically, socially, personally, and psychologically empowered. Today's tech-friendly feminization in agriculture will create a home for no poverty, zero hunger, good health, and well-being, quality education, gender equality, clean water and sanitation, decent work and economic growth, reduced inequality, a hand for climate action and partnership to achieve the goals in future.